Weitere Informationen:
First Solar Deutschland:
First Solar Manufacturing GmbH
Marie-Curie-Str. 3
15236 Frankfurt / Oder
FIRST SOLAR:
FRANKFURT (ODER) CELEBRATES SECOND FIRST SOLAR FACTORY
08.11.2011 + + + November marks the achievement of full production at First Solar´s new manufacturing plant in Frankfurt (Oder), Germany, doubling the company´s production capacity at the site to 500 megawatts (MW) of clean, green solar modules a year. The month also marked the production of the 1 millionth module to roll out of the new plant, which had been gradually ramping up to full capacity since June.
An inauguration event on Nov. 3 brought together First Solar officials, customers, installers and politicians from all the major German political parties for a full day of plant tours, speeches and workshops on the solar life cycle from raw materials to manufacturing to installations and recycling.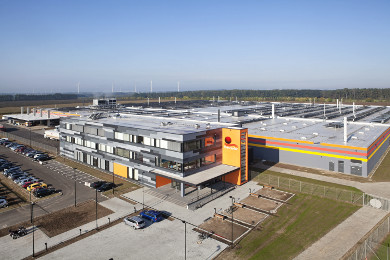 The 50,000 square-meter plant became fully operational on schedule after just one year of construction and an overall investment of more than 170 million euros. First Solar´s employment in Frankfurt (Oder) has almost doubled to more than 1,200 from 650, bringing the company´s overall employment in Germany, including sales, marketing and customer service teams, to more than 1,400 associates.
"With the official inauguration of our second German plant in Frankfurt (Oder), we´re operating Europe´s largest and most modern production site for advanced, thin-film solar modules," Tymen DeJong, Senior Vice President for Global Operations, told the company´s guests. "We will require the capacity of the new site in order to meet the growing demand for clean, affordable energy in Germany, Europe and worldwide."
Source: First Solar Newsletter

FIRST SOLAR SPONSORS GERMAN LOCAL UTILITY PROJECT
At the end of October, the German environmental organization Deutsche Umwelthilfe (DUH) launched the project "Local Utilities as Promoters of Renewable Energies in Germany." First Solar is the main sponsor of this project, which focuses on the role that local utilities play in communities on energy issues such as the energy mix, infrastructure investments and the development of the PV market. The German Association of Local Utilities, the German Association of Towns and Municipalities and the German Agency for Renewable Energies are also involved in the project. The project lasts until the beginning of 2013 and extends a partnership between First Solar and DUH that has already covered topics such as biodiversity, climate protection and waste management.
Source: First Solar Newsletter